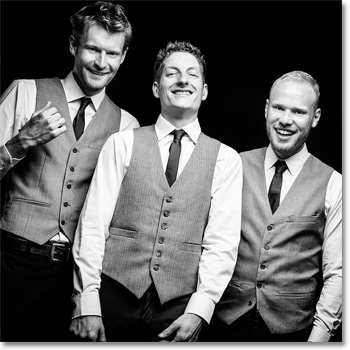 We are a 3 man party/wedding/function band based in Brighton, East Sussex and are available to hire for your events across the UK!
We've played gigs all over the world, from the smallest clubs to the biggest venues, such as festival stages. We performvaried musical styles from rock 'n' roll classics by The Rolling Stones, The Beatles, to modern and contemporary indie and pop hits by artists as diverse as Kings Of Leon, Arctic Monkeys, Muse, Amy Winehouse, Bruno Mars, Take That, Katy Perry and Lady Gaga. Check out our full repertoire here.
We have a genuine love of classic rock and roll but we also thrive on recreating the festival vibes of bands like Kings of Leon, The Foo Fighters and The Killers. We've been living and breathing music for the past 15 years and have been entertaining audiences at private events across the length and breadth of the UK since 2010.
Not only have we performed for hundreds of wedding clients and a number of prestigious corporate clients (ING Insurance, RAF Benson, medical research charity Action for A-T) but we have also taken to the stage at some of the UK's top private event venues such as Stanmer House, Brighton, RAF Benson, The Walled Garden, Cowdray, Blackstock Farm, Hellingly, Walton Castle, Somerset, East Quay Resturant, Whitstable Harbour. Lastest Music Bar, Brighton, Little Ship Club, London.
Please have a listen to our audio recordings and watch our video over on the media page.
Nick Taylor
01782 383547
+44 (0) 1782 383 547